Research to Restore and to Preserve
Use of Glacier Creek Preserve and T.L. Davis Prairie for research is encouraged and supported to the extent resources are available.  Described in more detail below, research has been conducted on the Allwine Prairie Tract of Glacier Creek Preserve since its restoration to tallgrass prairie in 1970 with additional research beginning on the recently acquired Papio Tract and Barbi Hayes Overlook.  Research also has been conducted and is on-going at T.L. Davis Prairie.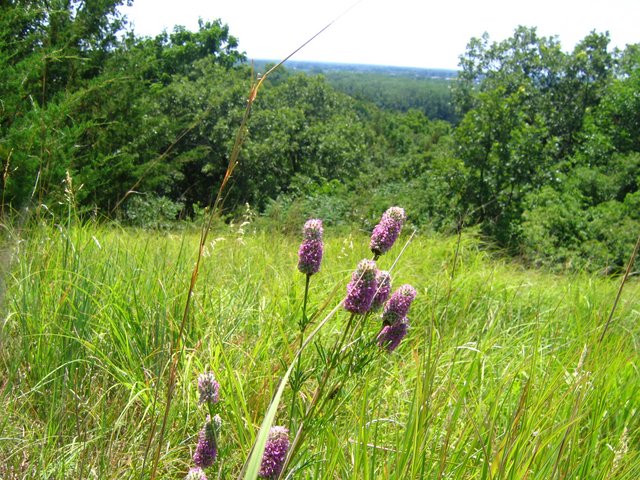 ---
Research Requests
Research projects are welcome at UNO's preserves.  Contact the Preserves Director to discuss or propose projects or receive a Research Project request form.  The Research Request form, which is needed to coordinate research efforts and facilitate a record of preserve use, requires only a brief description of the project and also indicates the requirement that a summary of results be provided the Preserves Director. 
---
Ongoing Research
Glacier Creek Preserve:
Flora: Research at Glacier Creek Preserve includes long term plots initiated in 1978 and designed to study the effects of fire and mowing frequency and season-of-occurrence on grassland plant community composition.  In addition, landscape vegetation surveys of the Allwine Prairie Tract were conducted in 1979, 1993, and 2009. Above-ground biomass sampling of burned and unburned upland and lowland prairie has been conducted annually since 1994.
Fauna: Quantitative data and surveys have been collected on grassland birds and small mammals as part of thesis projects or faculty research.  Ongoing studies include a survey of small mammals from 2012-2014 on the un-farmed portion of the Papio Tract and Barbi Hayes Overlook as a first step in long-term monitoring of the effect of planned future restoration on these sites. Additional research on small mammal diversity is ongoing.
Butterfly Monitoring: Since 1998, twenty weekly Pollard Transect butterfly population censuses have been conducted by Dr. Ted Burk of Creighton University each year from early June to mid-October.  Since 2001, data also have been collected on nectar plant visits by butterflies observed in the censuses.  These data provide a characterization of the butterfly community at the Allwine Prairie tract of Glacier Creek Preserve, nectar plants utilized by the butterfly community, seasonal and annual variations in the community, butterfly dispersal, and determination of the effects of prescribed burning on butterfly populations.
Abiotic Environment: Weather data are collected continuously and are available on request from the Preserves Director.  Water flow volume of the spring-fed Glacier Creek is also monitored as is siltation in the western lowland of the preserve, which is situated adjacent to farmed ground.
GIS Data Base: Management practices at Glacier Creek Preserve have been documented starting with the initial restoration of the Allwine Prairie Tract and continuing to present.  This data base is available by contacting the Preserves Director as is information on the availability of data from past or ongoing research or monitoring efforts described above.
Solar Energy Research Test Facility: Glacier Creek Preserve currently houses a solar energy research test facility that is maintained by the Computer and Electronics Engineering Department, College of Engineering, University of Nebraska-Lincoln. 
For more information contact Dr. Bing Chen.
---
T.L. Davis Prairie:
Long term research plots were established in 2006 on the ridgetop loess hills prairie at T.L. Davis Prairie to assess plant community responses to savanna restoration efforts and to the reintroduction of fire to the ecosystem.  An evaluation of the woodland vegetative composition was conducted in 2014 with permanent plots in the woodlands planned for the future.
Our Campus. Otherwise Known as Omaha.
The University of Nebraska does not discriminate based on race, color, ethnicity, national origin, sex, pregnancy, sexual orientation, gender identity, religion, disability, age, genetic information, veteran status, marital status, and/or political affiliation in its programs, activities, or employment. Learn more about Equity, Access and Diversity.
scroll to top of page