If you need special accommodations, please let us know one week in advance by calling: 554-4999 (TTY 554-3799) or emailing: 

unoaimforthestars@unomaha.edu
---
Welcome
There is a 1:8 adult to camper ratio at Aim for the Stars. Our staff members are chosen based on their rapport with children, knowledge of the subject matter and love of learning. Your child will learn so much and enjoy every moment of Aim for the Stars Science and Math Camp.
Aim for the Stars will be using a new platform for registration this year. Chosen by the UNO Youth Safety Department, CircuiTree is a private company. Please take time to look over the format before registering. Be patient as we all adjust the new process!

CircuiTree charges $5.00 per registration. Aim for the Stars will absorb this cost for 2017. In the future, there will be a small increase in camp prices to accommodate this fee.

Please take some time to read over the Parking instructions on the website as there have been some important changes: Parking Instructions
---
Camper Age Policy
Ages are based on grade entering in fall of 2017. Children entering third grade - register for Totally Cool Math and Science camp. (No exceptions.) Most camps are for children entering grades four through eight. Four camps are available for those entering grades 8 - 10. Fourth and fifth graders attend together and sixth through eighth graders attend together.
---
Electronics Policy
The AFTS staff cannot monitor every child's use of personal technology; therefore, small electronic devices, phones, i-pods and the like are to be kept out of sight and not used during camp hours or in before or after care. If the device is being used, counselors and/or teachers will confiscate and send the device to the camp director. It will be returned at the end of the day. No sooner. Safety concerns and the misuse of such technology at camp have led to this policy. 

There is a telephone in each room and teachers carry phones on field trips that may be used for emergency calls to parents. Use of cell phones to call or receive calls from parents or others is discouraged during camp hours, including the lunch period. Parents should call 554-4999 if they need to speak to a child. We are more than happy to have children use the phone in the classroom if they need to call their parents/guardians.
---
Camp Hours
Weekly starting Monday, June 5 – Friday, August 11
8:30 A.M. - 3:30 P.M. Monday - Friday (each camp is 1 week long)
8:30 A.M. – 12:30 P.M. Monday – Friday for half day 8

th

 – 10

th

 grade camps only
No camps the week of July 3 - 7
Before & After Care
To accommodate families who need to drop students off early or pick them up late, care will be provided with an additional fee. Before care: 7:30 - 8:30 A.M. After care: 3:30 - 5:30 P.M. Options for extended care:
$10 per student, per week of camp for 

just before care

$25 per student, per week for 

just after care

$30 per student, per week for 

before and after care
Note: Limited enrollment in After Care. Due to the number of campers enrolled in After Care, there is no enrollment by the day except under emergency conditions.
Lunch
All campers need to bring a sack lunch daily. There is Kool-Aid to drink at lunchtime. A refrigerator is available in each classroom. An afternoon treat is also provided.
Family Night
Thursday nights are Family Nights! A note with details and rooms will be sent home with your child on Tuesday. Visit your child's classroom; planetarium show and/or CAPOW! show, and roam from room to room to see what's up!
---
Free Stuff
With each registered camp, campers receive a t-shirt, a $5 gift certificate to the Science Store, a gift certificate for any one UNO Maverick home athletic event during the 2017 - 2018 season (with some exclusions), and a gift certificate to Hobby Town in LaVista!
---
Payment and Cancellation Policy:
Each camp registration includes a non-refundable $50 deposit. Deposits will not be refunded or applied to another camp or camper's account.
The remaining balance due must be received by 5:00 P.M. Monday, May 8, or you will be billed. Payment plans may be set up for those with financial need only. If payment arrangements have not been made or if the remaining balance is not received within 7 working days after bill is mailed (mailed May 8th, due May 17th), reserved camp space(s) will be forfeited. Cancellations made within five working days before the camp session will receive no refund. Due to constraints of the new UNO Youth database, a $10 transfer fee will be applied for all transfers.
---
Parking at UNO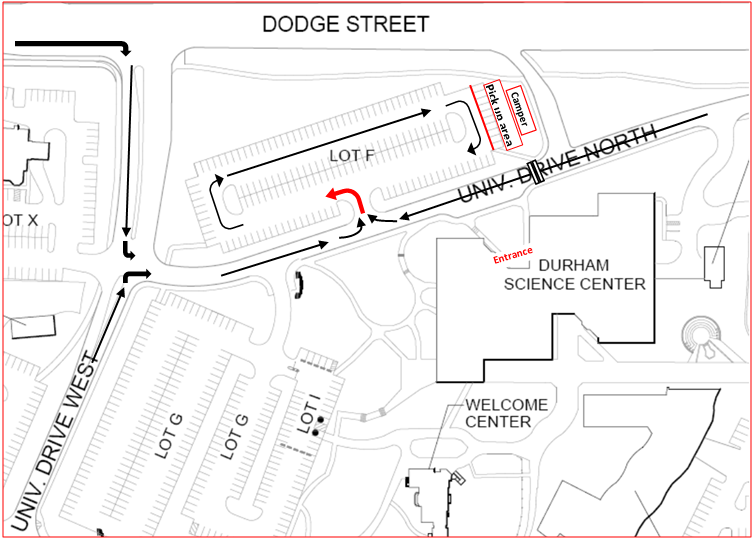 Safety is of the greatest importance at Aim for the Stars. Parking procedures reflect the combined efforts of UNO Parking Enforcement, UNO Public Safety, and the director of Aim for the Stars to ensure the safety of your children. Please inform those dropping off and picking up children of the instructions and map found on the "Parking" tab on the website: aimforthestars.unomaha.edu. There have been changes in procedure for this summer!
Morning Drop Off
Please park in Lot F and walk your child into the Durham Science Center
Dismissal and After Care Parking
Campers are dismissed as follows:
Since there is a great amount of traffic at this time, traffic in  will be directed by UNO Security.
Parking for 

self-sign dismissal

 will be allowed .
Near 3:20 p.m., children with permission to sign themselves out of camp will be led across the crosswalk to the assigned waiting area.
Parents should enter  and turn to the west following the loop around the parking lot.
The east end of the parking lot has been blocked off to allow 

staff to escort campers

 to their vehicles. Please remain in your cars and allow staff to escort children.
It is strongly suggested that parents stagger pick-up times so that the traffic is not overly congested right at 3:15. The children will be well monitored and safe. (See Map.)
Note: Giving your child permission to self-sign out from camp means that we do not check names of those picking up. We will do our utmost to ensure your child gets in the correct car.
Adults who go inside to sign out and pick up children should park in .
Between 3:25 and 3:35 p.m., children enrolled in After Care and those children without permission to sign themselves out will be brought to Room 115 - 116.
Campers will be dismissed directly from Room 115 to the adult responsible for picking them up.
Children not picked up by 3:45 will be placed with After Care.
The directions are the same as Parent Pick-Up, unless children are outside playing.
If children are outside, they will be in the area behind Durham through the south doors.
A counselor will have the check-out sheet for aftercare.
Be sure you have listed all of those with permission to sign out your child. 

Please pick up your camper by 5:30 p.m.
Those adults not willing to abide by these instructions may be asked to keep their child at home with no refund.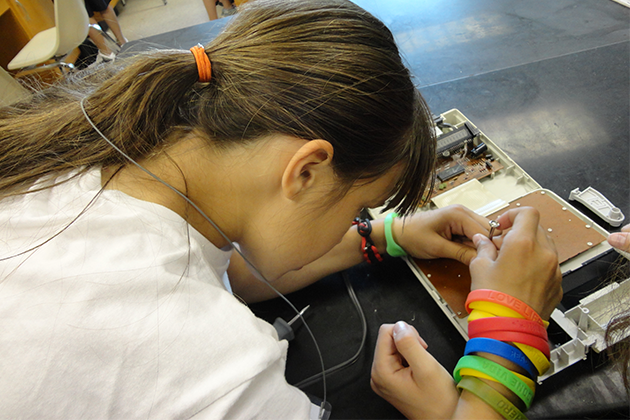 Our Campus. Otherwise Known as Omaha.
The University of Nebraska does not discriminate based on race, color, ethnicity, national origin, sex, pregnancy, sexual orientation, gender identity, religion, disability, age, genetic information, veteran status, marital status, and/or political affiliation in its programs, activities, or employment. Learn more about Equity, Access and Diversity.
scroll to top of page