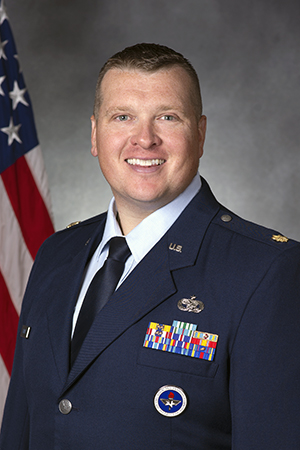 Eric Schmidt, Maj, USAF
Assistant Professor of Aerospace Studies
Operations Officer, Air Force ROTC Det 470
---
Additional Information
About Eric Schmidt, Maj, USAF
Major Eric Schmidt is the Operations Flight Commander at Air Force Reserve Officer Training Corps, Detachment 470, University of Nebraska at Omaha. In this role, he provides leadership and mentorship for future Air and Space Force officers. Additionally, he instructs college-level curriculum covering Air and Space Force history, national security affairs, and leadership development.
Major Schmidt received his commission from the Air Force Reserve Officer Training Corps Detachment 88 at California State University, Sacramento in 2013. Prior to his current assignment at Detachment 470, Major Schmidt served as Executive Officer for the 55th Mission Support Group Commander at Offutt Air Force Base, Nebraska. In that role he led a four-person front office staff charged with administrative process management and by-law program compliance for 1,600 personnel across five squadrons supporting the 55th Wing's intelligence, surveillance, and reconnaissance mission, as well as Headquarters United States Strategic Command, the 557th Weather Wing, and 48 mission partners located on Offutt.
Major Schmidt is a logistics professional with more than 9 years of logistics experience supporting both peacetime and combat operations. He has deployed in support of Operations INHERENT RESOLVE and SPARTAN SHIELD.
Education
2013: Bachelor of Science, Operations Management, California State University, CA
2014: Logistics Readiness Officer Basic Course, Lackland AFB TX
2018: Master of Arts, Transportation and Logistics Management, American Military University, WV
2020: Squadron Officer School, Maxwell AFB, AL
Assignments
June 2013 – June 2014: Individual Ready Reserve, Buckley AFB, CO
June 2014 – August 2017: 732d Air Mobility Squadron (AMC), Joint Base Elmendorf-Richardson, AK
August 2017 – June 2019: 2d Logistics Readiness Squadron, Barksdale AFB, LA
June 2019 – July 2020: Logistics Plans Analyst, HQ AFGSC/A4, Barksdale AFB, LA
July 2020 – Aug 2021: Operations Officer, 55th Logistics Readiness Squadron, Offutt AFB, NE
Aug 2021 – June 2022: Executive Officer, 55th Mission Support Group, Offutt AFB, NE
June 2022 - Present: Assistant Professor of Aerospace Studies, Det 470, University of Nebraska at Omaha
Major Awards and Decorations
Joint Service Commendation Medal
AF Commendation Medal with two oak leaf clusters
Joint Service Achievement Medal
Joint Meritorious Unit Award with one oak leaf cluster
Meritorious Unit Award with two oak leaf clusters
National Defense Service Medal
Nuclear Deterrence Operations Service Medal
Effective Dates of Promotion
June 14, 2013: Second Lieutenant
December 17, 2015: First Lieutenant
December 17, 2017: Captain
April 28, 2023: Major
Current as of May 2023