ISSUED: (Friday, March 13, 2020 17:00 PM)
CAMPUS ANNOUNCEMENT
UNO campus remains open; classes moving to remote learning mode March 30.
More Information
CLOSE

X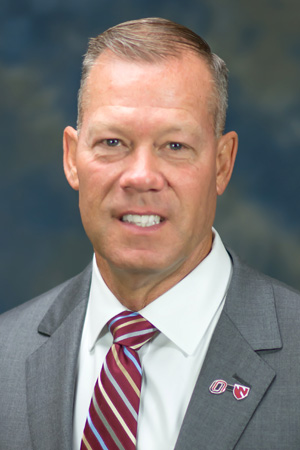 Doug Ewald
Vice Chancellor for Business, Finance and Business Development
---
Additional Information
---
Overview
Doug Ewald was named Vice Chancellor for Business, Finance and Business Development in August 2018. As Vice Chancellor, he oversees all budget, finance, operational and administrative services, as well as all business development activities, in support of the chancellor. Ewald holds the same position at the University of Nebraska Medical Center and, in total, oversees 600 employees across the two campuses.
Education & Professional Training
Ewald holds a bachelor's degree in accounting and finance from Buena Vista University (1985) and a master's degree in professional accounting from UNO (1989). While at UNO he also served as a graduate assistant for the College of Business Administration. He remains an active member of the College of Business Administration alumni community, serving on the college's accounting advisory board.
Ewald has been a Certified Public Accountant with the state of Nebraska since 1987. He is also a member of the AICPA and Nebraska Society of CPAs.
Background
Ewald has more than 30 years of experience in Nebraska's private and public sector overseeing finance and accounting responsibilities. His most public role involved serving as Nebraska's Tax Commissioner under Gov. Dave Heinemann from 2006 to 2013. In this position, he restructured the department into a more customer-responsive agency and successfully promoted the use of electronic tax-return filing, making Nebraska a leading state in this category.
In addition to his work for the state, Ewald spent 17 years with Union Pacific, ultimately serving as the company's director of state tax compliance, audit and financial reporting. His other employers have included Omaha-based KPMG, where he served as managing director of state and local tax compliance from 2013 to 2017, and Lincoln-based Ameritas, where he served as tax director from 2017 until 2018.
Publications and Presentations
An active member in the business world, Ewald has presented at several national conferences as well as in the classroom as a guest lecturer at Creighton University. He is also the author of a chapter in D.J. Ford's "Handbook for managerial communication."
Community Engagement & Service
As an Omaha native who has lived in the metro all of his life, Ewald is committed to giving back to his community. In addition to serving on the UNO College of Business Administration accounting advisory board, he currently serves on the Board of Directors for the Florence Home and Senior Health Foundation, which designs programs to improve the mental and physical state of senior citizens. He also volunteers regularly with Habitat for Humanity to help assist with renovations. He has worked on the Buena Vista University President's Advisory Council, served on the Board of Directors for Millard North Baseball Inc., spent 10 years as the Omaha AAA Hockey Club's Finance Director, painted houses with Brush Up Nebraska, and volunteered as a Cub Master and member of the Mid-America Council with the Boy Scouts of America.
Honors & Awards
Ewald has received recognition from his alma maters, earning the UNO College of Business Administration's "Distinguished Alumnus" award in 2015 and Buena Vista University's "John Fisher Alumni Award" in 2010.