Save the Date for ENSLAVED: A Visual Story of Modern Day Slavery
The exhibit features the work of humanitarian photographer Lisa Kristine, and will be displayed in Criss Library and the Barbara Weitz CEC beginning March 23, 2017. This exhibit is coordinated in tandem with the 18th Annual Leonard and Shirley Goldstein Lecture on Human Rights.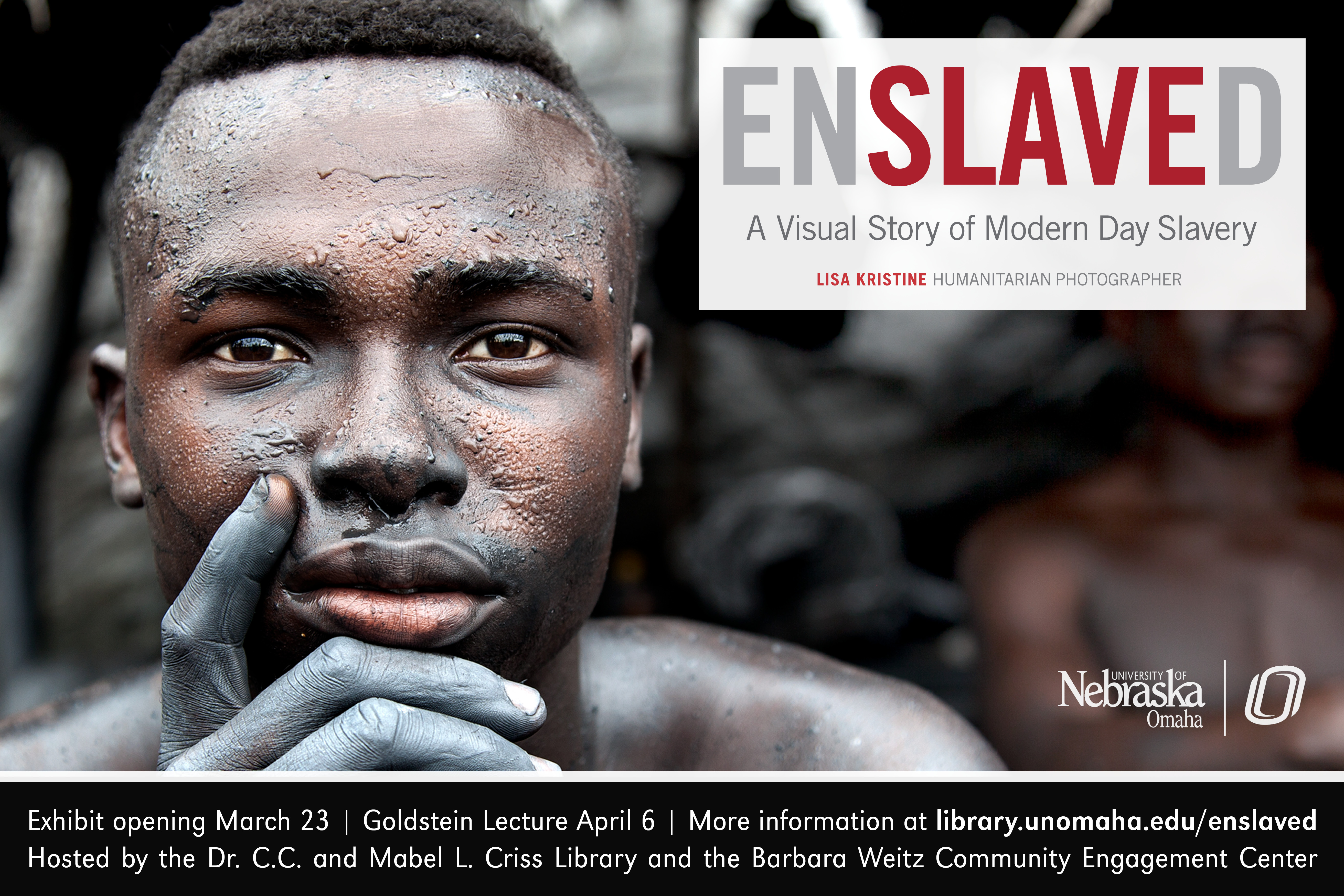 ---
Exhibit Details
The majority of the exhibit is housed within Criss Library, while an additional display is located in the Barbara Weitz Community Engagement Center.
Click to read full press release.
---
About the Artist
Lisa Kristine's photographs reveal two undeniable truths – the extreme brutality of the situation, and the resilience of the human spirit.
Kristine has traveled to six continents, through nearly 100 countries, capturing modern day slavery through images. In an effort to uncover the breadth and depth of human pain, she has plunged over 100 feet down an illegal mineshaft in Ghana, and endured Nepal's temperatures of more than 120 degrees. The images portray survivors who are now rebuilding their lives and helping others to freedom.
Displays of her work are located in the Dr. C.C. and Mabel L. Criss Library and in the Barbara Weitz Community Engagement Center (Weitz CEC). The exhibition will run for two months, with opportunities to attend ancillary programming and events, and is open to the public. Keynote speakers, nonprofit organizations, attorneys, professors, and survivors will lead these events in conjunction with the theme of modern day slavery. A schedule of events and more information will be available soon.
ENSLAVED was created to inspire sustainable change at the local, national, and global level through education and visual storytelling, with the hope that one day we can eradicate slavery.
---
Goldstein Lecture Events
More information to come.
---
The Leonard and Shirley Goldstein Lecture on Human Rights
The annual Leonard and Shirley Goldstein Lecture on Human Rights is sponsored by the UNO College of Arts and Sciences, Religious Studies Program, and SPHRS (Spirituality, Public Health, and Religious Studies). The Goldstein Lecture brings a distinguished scholar or leading expert on human rights to UNO each year.
---
Community engagement and service are fundamental components of UNO's identity. This commitment to engagement is reflected in UNO's academics, student body, partnerships, and institutional framework. Learn more about UNO's campus commitment to community engagement.