The collection includes:
Records from university offices and departments
Publications
Faculty Senate Records
Photographs
Course catalogs and schedules
Film and Audio Recordings
Personal papers and organizational records
Memorabilia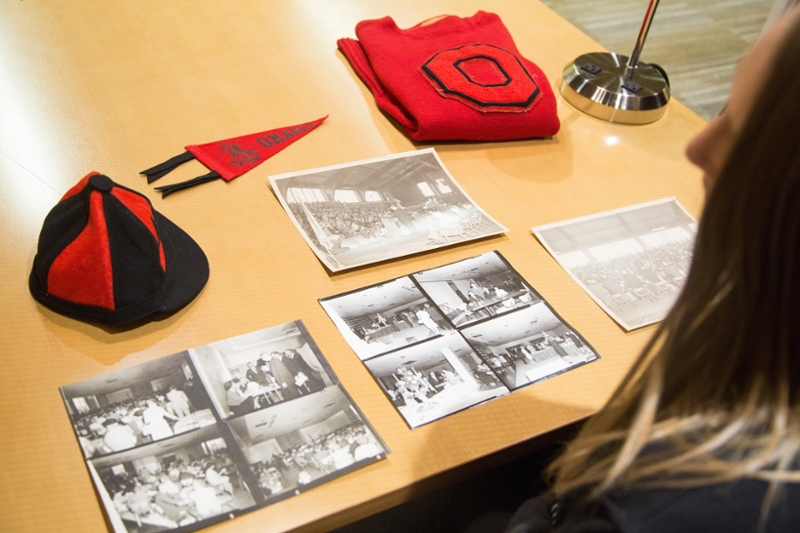 Highlights of the UNO Archives
Gateway
Nearly every issue of UNO's student newspaper, The Gateway, is available on-line stretching back to the 1920s.
UNO Yearbooks 
The "Gateway," "Omahan," "Tomahawk," "Breakaway," and "Maverick" yearbooks starting in 1915.
Reflections in Time 
A UNO Media Collection of 125 interviews produced from 1979 to 2007 with former OU and UNO staff, faculty, administrators, alumni, and others.
UNO Faculty Senate Records
Minutes, reports, publications, handbooks, committee information, and other material from circa 1967 to the present.
Board of Regents Records
Minutes of the University of Omaha Trustees (1908-1931), University of Omaha Board (1931-1968), and University of Nebraska Board of Regents (1968 to the present); campus master plans (1970-2010); and other documents relating to the Board of Regents and antecedents.
UNO Photographs
UNO Images showcases life on the University of Nebraska Omaha (Omaha University) campus from 1908 through today. 
YELLow Sheet
An early underground student newspaper from 1911-1915.
UNO Artifact Collection
Objects related to UNO and its original name, University of Omaha, from circa 1908 to the present.