Visitor & Event Parking
Visitors should enter through the Lot E parking booth, which is staffed with a parking attendant.
Summer hours for the Weitz CEC Lots E and D are:
Monday-Thursday: 7 A.M. to 6 P.M.
Friday: 7 A.M. to 5 P.M.
If Lots E and D have reached capacity for an event, permits will be provided for individuals attending events in the Weitz CEC or have a confirmed meeting with a building partner organization.
Parking requests for event reservations must be included in your reservation inquiry.  
---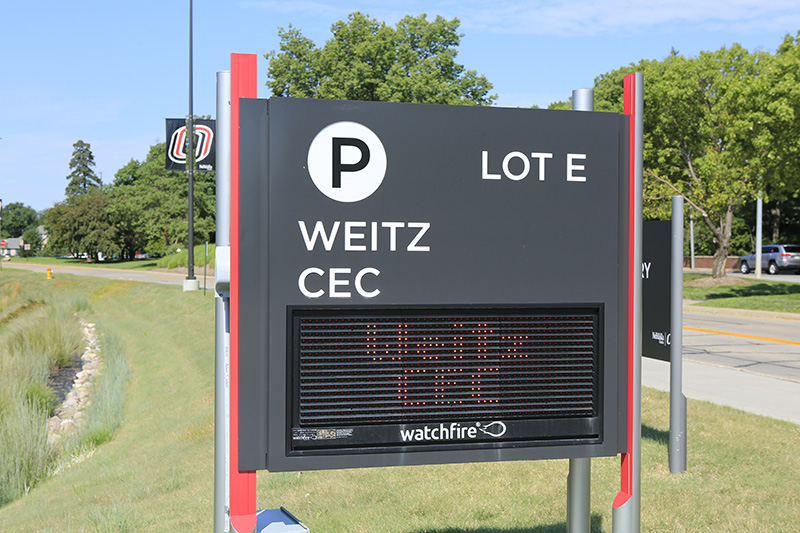 Directions By Car
West Entrance | From Dodge Street
Turn onto University Drive West, then left onto University Drive Road North.
East Entrance | From Dodge Street
Turn onto University Drive East, then right onto University Drive Road North. 
Lot D is located between Criss Library and the Strauss Performing Arts Center and available for visitor and event parking.
---
Walking or Bicycling 
Use Google Maps to find the best bicycling or walking route for you.
Public Safety offers bike safety information and a list of bike rack locations on campus.
---
Traveling By Bus
View the Omaha Metro bus routes. 
#2 bus makes stops every 15-20 minutes on Dodge Street, in front of the Weitz CEC.
#11 bus passes close by on Leavenworth Street with a 15-minute walk through Elmwood Park to campus.
#15/55 buses operate frequently on Center Street—you can walk from there or take a Maverick shuttle near 67th & Pine, which will drop you off next to the Weitz CEC on Dodge Campus.