Prospective Music Major Information
Prospective Musician Form
Thank you for your interest in the UNO School of Music. Please fill out the Prospective Musician Form to receive information about our ensembles, programs and classes.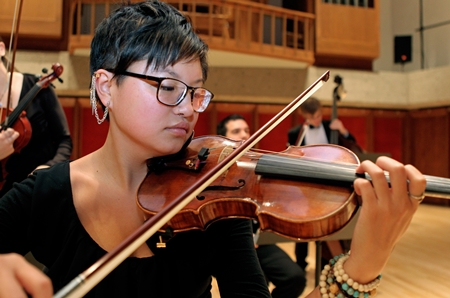 Scholarships
The UNO School of Music offers numerous scholarships for music majors and ensembles. We encourage all students interested in majoring in music to fill out the Scholarship Application Form.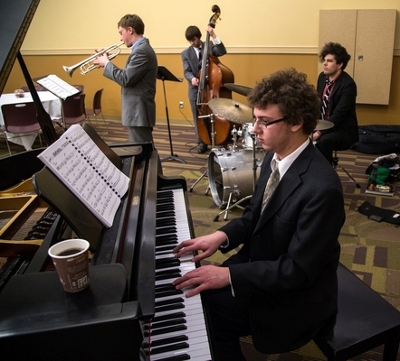 Frequently Asked Questions
Can I play in the band or orchestra or sing in the choir if I am not a music major?
You do not have to be a music major to be in any of our ensembles.
Do I have to audition to be in choir or band?
You can be in University Band, Marching Band, or University Chorus without auditioning. Jazz Band, Symphonic Wind Ensemble, Concert Choir, Chamber Choir, Heartland Philharmonic Orchestra and Chamber Orchestra all require an audition.
Do I have to audition to be a Music Technology major?
All students have to be accepted by performing an audition before they can be music majors. For some students in the Bachelor of Arts in Music Technology, a portfolio may be submitted in lieu of an audition.  This portfolio option is granted on a case by case basis. For audition information, contact Shellie Harden, sharden@unomaha.edu.
Are the auditions for Majoring in Music and getting in an ensemble different?
Yes, they are. Music major auditions are performed once, usually before a student enrolls. Ensemble auditions happen each fall, the week before classes begin. Ensemble audition information and music is available on the Ensemble Audition page, usually by July 15 each summer.
Music Major Auditions
Ensemble Auditions
Music Recruitment Contact Information
For more information about undergraduate recruitment and advising please contact Shellie Harden by email sharden@unomaha.edu or phone (402) 554-2177.
For more information about graduate recruitment and advising please contact Dr. Christie Beard by email cbeard@unomaha.edu or phone (402) 554-2685.