Directed by Dr. Joshua Kearney
The Marching Mavericks is open to all UNO Students. They meet August through November on Monday, Wednesday, and Friday from 4:30 P.M. - 6:00 P.M. The Marching Mavericks have numerous performances throughout the year, including UNO athletic events, marching exhibitions, parades, and the Midtown Crossing End of Summer Concert Series.
Student musicians who participate in athletic bands can also receive scholarships through the University Bands Scholarship program, which awards scholarships to all Marching Mavericks members. If you are interested in Marching Band, fill out the 2015 Intent to Participate Form and Marching Band Scholarship Form by clicking below.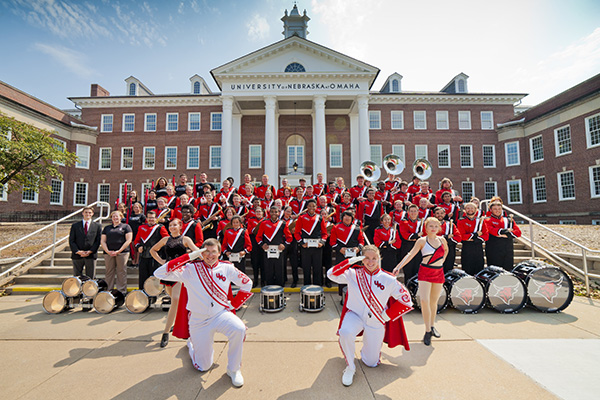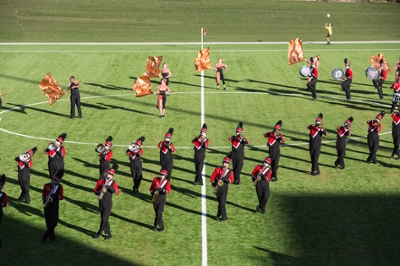 2015 Marching Mavericks Schedule
| | | |
| --- | --- | --- |
| Date | Event | Time |
| August 10 - 14 | Colorguard and Percussion Camp | 8:00 A.M. - 5:00 P.M. |
| Friday, August 14 | Leadership Retreat | 12:00 P.M. - 5:00 P.M. |
| Saturday, August 15 | Returning Members Camp | 12:00 P.M. - 3:00 P.M. |
| Sunday, August 16 | New Members Camp | 12:00 P.M. - 4:00 P.M. |
| Sunday, August 16 | Full Band Meeting & Picnic | 6:00 P.M. |
| August 17 - 21 | Band Camp | 8:00 A.M. - 5:00 P.M. |
| August 17 - 18 | Freshmen Orientation | 6:30 P.M. - 8:00 P.M. |
| Wednesday, August 19 | Freshmen Orientation | 8:00 P.M. - 10:00 P.M. |
| Thursday, August 20 | End of Summer Concert Series Performance | Evening |
| Friday, August 21 | Freshmen Troop | Evening |
| Saturday, August 22 | Men's Soccer vs. Washington | 7:00 P.M. |
| Sunday, August 23 | Freshmen Convocation | Afternoon |
| Monday, August 24 | Regular Rehearsals Begin (MWF) | 4:30 P.M. - 6:00 P.M. |
| Friday, August 28 | Men's Soccer vs. Kansas City | 7:30 P.M. |
| Friday, September 4 | Men's Soccer vs. UC Irvine | 7:30 P.M. |
| Friday, September 11 | Women's Soccer vs. Drake | 7:00 P.M. |
| Saturday, September 19 | Millard West Wildcat Classic Exhibition | Afternoon |
| Saturday, September 26 | Aksarben Heritage Parade | 10:00 A.M. |
| Tuesday, September 29 | OPS Marching Exhibition | Evening |
| October 8 or 10 | UNO Community Arena Opening Celebration | TBD |
| Thursday, October 15 | Omaha Performing Arts Rehearsal | Tentative |
| Saturday, October 17 | Omaha Performing Arts 10th Anniversary | TBD |
| Saturday, October 24 | NSBA MArching Exhibition | Evening |
| Friday, October 30 | Marching Mavericks Banquet | 6:30 P.M. |