UNO Advanced Placement® Summer Institute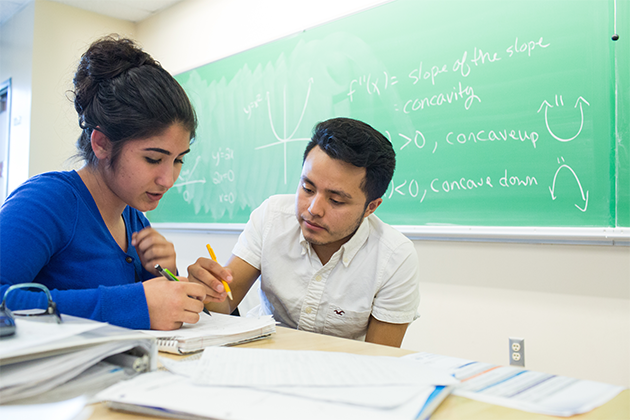 The UNO Advanced Placement® Institute is designed not only for those currently teaching Advanced Placement® courses, but also for those who will be teaching AP® courses, honors and/or accelerated classes, and special courses that feed into an AP® program. Courses are designed for both new and experienced AP® teachers and focus on what is new in the AP® curriculum, as well as offering an overview of the AP® semester/year long course, its objectives, and exam content. The interaction and sharing of pedagogy and content between the faculty and the AP® teachers provide for an exciting and challenging week that results in improved teaching and learning in the Advanced Placement® classroom.
Please note:
Our faculty members are College Board® endorsed.
The 2017 University of Nebraska at Omaha Advanced Placement® Summer Institute is endorsed by the College Board® and the Metropolitan Omaha Education Consortium.
All questions should be directed to:
Kristin Broyhill
Department of Political Science
University of Nebraska at Omaha
(402) 554-4121
kbroyhill@unomaha.edu
---
2016 Faculty
2017 APSI courses and faculty will be announced soon.
Institute Director

Jody Neathery-Castro

UNO Department of Political Science

Department Chair

Dr. Janice Rech | Calculus AB/BC

Janice Rech is an Associate Professor of Mathematics and focuses
on the teaching and learning of mathematics. Her current interest
is in the mathematical preparation of elementary teachers. Dr. Rech
works closely with high school AP® Calculus teachers in the University's
dual enrollment program . 

Dr. Edmund Tisko | Chemistry

Edmund Tisko, Assistant Professor of Chemistry, teaches General Chemistry
and Physical Chemistry. Dr. Tisko is a certified College Board consultant and
has taught college preparatory chemistry at the high school level.
He has given molecular modeling workshops to high school students and teachers,
as well as AP® Chemistry workshops. His interests include intramolecular forces and
first-year college pedagogy.

Dr. David Peterson | English Language & Composition

David Peterson, a certified College Board consultant, teaches First Year Writing,
Advanced Composition, Technical Communications and various literature courses.
Peterson also administers the department's Dual Enrollment Program and is
currently working on several projects, which include a study of biased language
and an examination of student writing in the online class environment.

Dr. Charles Johanningsmeier | English Literature & Composition 

Charles Johanningsmeier, Professor of English, teaches American Literature,
with a specialization in the period 1800-1915. Dr. Johanningsmeier,
who has also taught high school English, is especially proud of a course
he developed recently entitled "American Classics," in which secondary
education majors and practicing high school English teachers have the
opportunity to broaden and deepen their understandings of those
American novels most often taught in American high schools.

Dr. Juliette Parnell | French Language and Culture 

Juliette Parnel is an Associate Professor of French at UNO.
She was raised and educated in France. Her research interests are French
cultural studies and pedagogy. She is an IB and AP® reader in French.
She has extensive experience in conducting AP® workshops in French Language
nationally and regionally. She is also the Director of a UNO summer program in
France for students and teachers of French in Besançon.

Dr. Bradley Dyke | U.S. History

Bradley Dyke has taught U.S. History and Political Science at the high school
and college levels; Dyke recently took early retirement from Des Moines Area
Community College, where he served as the Program Chair of Political Science.
Dyke is currently working on an undergraduate textbook on Terrorism; he is also
a Civil War re-enactor, demonstrating the persona of a pre-Civil War "bushwhacker"
from the Missouri-Kansas Border War period. Bradley Dyke is an active consultant
for the College Board's AP® U.S. History and teaches the AP U.S. History curriculum
to high school instructors and is a reader for the AP® U.S. History examinations.
---
Schedule
July 17-20, 2017  |  8:00am - 6:00pm  |  Monday - Thursday

---
Registration
Advanced Placement Summer Institute Costs
Check back for 2017 APSI costs
Registration fees includes course materials and lunch.

APSI materials and registration ticket will be sent after payment has been received.

Graduate credit hours can be earned for additional cost. Please inquire with the coordinator.
Refunds
Your registration costs, less $50, will be refunded if the participant cancels in writing to Kristin Broyhill by 5PM CST on June 15.  No refunds offered for those who register after this time unless UNO cancels a course.
UNO and College Board are not responsible for any associated costs incurred by participants.
No late registrations or "Walk-in's"
Full payment

 

must

be received by 5pm on July 7th for participants to attend this ASPI
---
Housing
There are rooms reserved for the Advanced Placement® Institute at the Marriott Courtyard, located at 1625 South 67 Street, Omaha, NE 68106.
The direct phone number is 402.951.4300.
Please ask for the Advanced Placement® rate.
Continental breakfast and dinner are available at cost in the Bistro Cafe in the Courtyard.
Follow the reservation link below:
COURTYARD OMAHA AKSARBEN VILLAGE

ADVANCED PLACEMENT® SUMMER INSITUTE
• Check-in: Sun July 16, 2017
• Check-out: Thur July 20, 2017
• Special rate available until: June 15, 2017
---
Parking
Parking codes will be sent out via e-mail. 
---
Meals
Summer Institute Meal Information
Continental Breakfast to be served on Monday during registration only.  Check-in for textbooks, name tags, etc. will be done at this time.
Breakfast is on your own Tuesday-Thursday.
Lunch will be served each day.