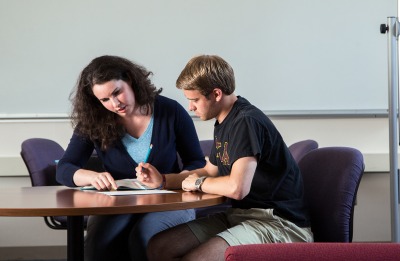 Helpful Definitions
Academic Year: A period of time schools use to measure a quantity of study. At UNO, the academic year is defined as the fall and spring semesters combined, during which a full-time student must complete 24 credit hours. The summer semester is considered a trailer to the academic year.

Expected Family Contribution (EFC): A measurement of your family's financial strength towards educational expenses during one academic year. It is an estimate, not the amount a family is expected to pay. The EFC is calculated using information that you will provide on the FAFSA and a formula established by law. A family's income, assets, benefits, size, and the number of children attending college are all considered in calculating an EFC. UNO uses the EFC to determine financial need. Your EFC can be found on the first page of your paper Student Aid Report (SAR), or at www.fafsa.ed.gov.

Financial Need: Financial need is determined by subtracting the Expected Family Contribution (EFC) from the Cost of Attendance (COA). The remaining value is used to determine what kinds of financial aid can be awarded.

Student Aid Report (SAR): Summarizes the information included in the FAFSA and contains your EFC. When you receive your SAR, check it for any mistakes. If you find a mistake, make the correction(s) on Part 2 of the form and return it to the Department of Education in the envelope provided.
Cost of Attendance
The cost of attendance is the estimated full and reasonable cost of completing an academic year as a full-time student and includes tuition and fees, room and board, books and supplies and other expenses including personal expenses and transportation.
These estimates are conservative by design, and in no way attempt to reflect differences in actual costs incurred by students with differing lifestyle choices.
Summer cost of attendance is variable and based on how many credit hours you are taking. For more information about student charges, please see tuition and fees summer schedule of student charges from Student Accounts. 
The cost of attendance can be viewed below in PDF form. If the links do not work for you, please download Adobe Acrobat Reader.
Disclaimer: The information provided is not a bill. The University of Nebraska Omaha reserves the right to increase or modify tuition and fees without prior notice, upon approval by the University of Nebraska Board of Regents.
Net Price Calculator
Use the Net Price Calculator to get an approximate idea of what your total UNO costs will be including tuition, books, room and board, and more. 
Verification Information
The University of Nebraska Omaha participates in the Department of Education's Quality Assurance (QA) Program which involves an institutional commitment to exceptional student aid delivery and quality student service. Each year, UNO utilizes a specialized criteria set to select a percentage of our applicants for verification and requires selected applicants to verify the accuracy of financial data based upon federal regulations. Selection criteria for verification may vary according to population segments or data elements in which inaccuracies occur most frequently.
If your application is selected for verification, you will receive a notification at your registered UNO email address. You will be asked to sign into mavlink to view the documents for you to complete and submit to the Office of Financial Support and Scholarships. Documents requested will vary and may include, but are not limited to, an institutional verification form, W-2 forms, and IRS Tax Return transcripts. Tax return transcripts can be ordered or retreived online for immediate printing through the IRS website.  Institutional documents are available on your mavlink To Do List or by request from the Office of Financial Support and Scholarships.
Not all students are selected for verification so please do not submit additional information unless requested by UNO via your UNO email address.
Financial Aid Resources